News Archive
---
Prepites Social At Orient - 17th May 2013 - Update
Dear All

Further to the e mail that went out yesterday to the general membership of our plans for the 17th evening to celebrate our beloved schools 75th anniversary , we have organized a social for all members of the OBU and their spouse.

The event will be at the Orient Club at Col 07 and will commence around 7.30pm . Some light music has been arranged to entertain all attendees.
Catering will be by way of an eastern dinner menu, comprising of Hoppers/ Kottu / String hopper pillau along with the usual curries.

The cost will be 1000/- per head.

A bar counter will be in operation for those who would like to purchase any beverages. If anyone wishes to bring their own liquor , corkage will be 250/- per bottle.

Please do pass on this message to all your class mates and acquaintances from Prep.

Warm regards,

Shiran , Imran , Tissa and Trehan
On behalf of organising committee
Posted on: 15-05-2013
---
Minutes of the Special General Meeting on 24th April 2013
Please click on the link below to download the minutes of the Special General Meeting of the OBU of S. Thomas' Prep School, held on 24th April 2013.

Download Minutes of SGM - 24 April 2013
Posted on: 15-05-2013
---
SPECIAL GENERAL MEETING
S. Thomas' Preparatory School Old Boys' Union - Special General Meeting
Please be placed on notice that acting under
Rule 9(a)
of the
OBU Rules
in force, the Executive Committee has resolved to summon a
Special General Meeting
of the OBU on Wednesday the 24th April at 6.30 p.m., to be held at the main Chambers Auditorium of the Diocese of Colombo, Cathedral Premises, Bauddhaloka Mawatha, Col. 7. The Agenda is as follows:
a) Notice convening the meeting
b) Excuses
c) OBU participation in future development of Prep School
d) Any other business
e) School song / Adjournment
The kind presence and active participation of all duly enrolled OBU members (please bring your membership card with you) is expected. Those requiring more information or those who may have changed their mailing addresses may e-mail
prepobu.admn@gmail.com
Chrishmal Warnasuriya
Honorary Secretary
... The Lord is my Shepherd...
Posted on: 08-04-2013
---
Prep Nite 2013 ("Seventy Five")
My fellow Prepites;

It behoves me in my capacity as your elected Secretary, to extend a BIG THANK YOU to all of you, from the very bottom of my heart; for giving of your time & resources UN-HESITATINGLY to make PREP NITE 2013 ("Seventy Five") yet another resounding success - THANK YOU!!!

To all those Old Boys who supported in your numerous ways, be it by way of sponsorships, gifts or outright donations, or simply buying out all the tickets long before the event; I say THANK YOU; to all our well-wishers and the wider Thomian community that participated or sponsored us, I say THANK YOU; the Lord Bishop of Colombo who is the Chairman of our governing body for being there with us, I say THANK YOU; for those hardworking members of this year's Ex Co who made up the Organizing Committee for this our GRAND 75th ANNIVERSARY CELEBRATION, who made sure from the very first lyrics of the school song to the final "maalu paan" served at the break of sunlight... I have no words to express my gratitude, so I will simply say THANK YOU!

Just like last year (or better – by the comments received thus far), it was once again a perfectly planned, clinically executed all round team effort; we've been receiving nothing but COMPLIMENTS and that makes me proud to once again have worked in such a DYNAMIC TEAM; for those of you that missed being part of this 75th anniversary celebration in some little way at least; let me simply state that you missed a darn good show and a great opportunity of being part of making history for our dear old "home by the roaring billows – for the lives that lies before us"!

My parting "charge" to particularly those younger Prepites who we've been fortunate enough to discover and groom over these last couple of years - PREP SCHOOL is truly blessed with your youthful energy; now BUILD ON what you began and put up an even BIGGER show next year and take it to greater heights targeting the centenary celebrations in 2038; I for one (if we're still around alive & kicking), will be the proudest & the happiest to see that!

WELL DONE ALL - I remain, truly a benefitted man and a deeply fulfilled Secretary from your dedication to the task and the experience of having been there with you.

…. "The Lord is my shepherd"…

Chrishmal Warnasuriya
Honorary Secretary, S. Thomas' Prep School OBU

18th February, 2013
Posted on: 25-02-2013
---
Urgent Medical Assistance:
Mrs. Ramanayake
Fellow Prepites,

Our Prep School maths and science teacher Mr. P. Ramanayake's wife has been urgently advised to undergo a kidney transplant as she has been diagnosed with end-stage renal disease. She is currently under the care of Dr. Surjit Somiah, consultant nephrologist at Lanka Hospitals. A letter from Dr. Somiah is attached. The doctor has advised that an individual of blood group A +/- or O+/- would do, and he or she should not be having blood sugar or pressure related complications in order to qualify for further tests/investigations as a potential donor.

Should you be able to assist in any way, please contact Mr. Ramanayake on 011-2764076 or 0725-935417.

Please click here to download the Medical Report for more information.
Posted on: 24-02-2013
---
Obituary: Mr. O.N. Peiris (Nihal Peiris)
We regret to announce the demise of Mr. O.N. Peiris (Nihal Peiris), who served on the Prep School staff from 1978 until his retirement in the mid 2000s. In addition to teaching and other school activities, Mr. Nihal Peiris was actively involved with the Prep School cricket teams throughout the 1990s, and also coached the senior team. He was the Deputy Headmaster at the time of retirement.

His mortal remains will lie at his residence, No. 59 Rawatawatta (past the Sarvodaya), after which the cortege will be brought to the Methodist Church, Rawatawatta at 4 p.m. tomorrow. Burial will be at Moratumulla Methodist Church after the service.
Posted on: 19-02-2013
---
Seventy-Five - Anniversary Dinner Dance 16th Feb 2013
Bookings for Tables in multiples of 10 are now open. Please send us your name and contacts so that we can reserve a table for you.


Posted on: 18-12-2012
---
Prep Motor Rally 2012
Fellow Prepites and members of the Thomian Fraternity,

We are pleased to announce that the next event organized by the Prep School OBU, in the run up to the 75th anniversary of the School, will be the Prep Motor Rally on Sunday 25th November commencing at the Colombo Rowing Club at 8 a.m. All members of the Thomian community are welcome to register, while there will also be activities for the whole family at the club.

Please see the attached flyer for more information on participation. Registration forms will be available for download at our website, www.prepobu.lk from 1st through 15th November, while you may contact the organizers mentioned in the flyer for more information. We hope to see you and your family there. Please spread the word!

Download Application Form


Posted on: 31-10-2012
---
Get together at the 80 Club
Tickets are NOW AVAILABLE for sale for the informal get together at the 80 Club on the 25th of August. Please find more details on the ticket sales in the attached image, as tickets will not be sold at the gate.

This informal social evening will enable us to "kick-off" our year's activities, to meet and discuss matters of Prep School in general and this year's programmes in particular in lighter hearted social environs; so that you may also contribute with the invaluable feedback that we constantly receive from our members, towards preserving and promoting our dear Prep School for the benefit of future generations of Prepites in the years to come.

Please feel free to circulate this to other Prepites that you may be in contact with, ideally with a Cc to the OBU at prepobu [at] gmail [dot] com and prepobu.admn [at] gmail [dot] com; so that we may also update our records.

We look forward to seeing as many of you there, as possible!


Posted on: 13-08-2012
---
Service of Thanksgiving:
Mr. J.V. (Vernon) Weerasinghe
Below are the details of the Service of Thanksgiving to be held in memory of Mr Vernon Weerasinghe, who passed away on 17th May 2012. Mr Weerasinghe joined the staff of S. Thomas' Prep School in 1981, after retiring as Principal of Carey College, and was later appointed Deputy Headmaster under Mr. J.S.L. Fernando. He retired as Deputy Headmaster in 1998, but continued as a part-time English and Geography teacher at Prep until 2003.



A SERVICE OF THANKSGIVING

FOR THE LIFE OF

MR. VERNON WEERASINGHE

WILL BE HELD

AT

CINNAMON GARDENS BAPTIST CHURCH

ON

SATURDAY 25TH AUGUST, 2012 AT 5.00 P.M

THE FAMILY WOULD BE PLEASED TO HAVE YOU ALL JOIN THEM AT THIS SERVICE


96/17 Kottanuwatte Road, Nugegoda.
Tel: 4852779, 0777154007

Posted on: 06-08-2012
---
2nd win for S Thomas Prep Under 15
S Thomas Prep Under 15 beat St Benedicts, Kotahena in their Schools Under 15 Div II fixture played yesterday at the Health Grounds Borella. S Thomas Prep 177/6 in 39 overs. St Benedicts all out for 73 all out in 28 overs.
Posted on: 26-06-2012
---
Prep Under 15 beat Royal College "B" team
S Thomas Prep Under 15, beat Royal College "B team" by 41 runs, in their opening match of the Under 15 Division II tournament match played yesterday, at Royal College Junior Grounds, Colombo 7.
Posted on: 20-06-2012
---
33rd Annual General Meeting of the OBU was held on Friday June 1st 2012 at the School Hall
Click here to view the Secretary's report that was tabled at the meeting.
Posted on: 12-06-2012
---
Prepite Shehan Karunatilaka (O Level Class of 1991) wins Commonwealth Book Prize
Sri Lankan author's cricket-themed debut offering Chinaman: the Legend of Pradeep Mathew takes £10,000 award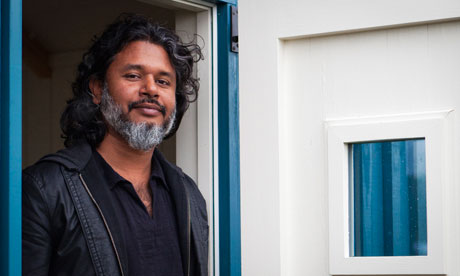 Shehan Karunatilaka's novel Chinaman: the Legend of Pradeep Mathew won warm praise from the Commonwealth book prize judges. Photograph: Simon Jones

Sri Lankan author Shehan Karunatilaka, a former advertising copywriter, has won the Commonwealth book prize for his highly praised debut novel Chinaman: the Legend of Pradeep Mathew.

Narrated by the alcoholic former sports journalist WG Karunasena, the novel is the story of his quest for Pradeep Mathew, a devastatingly talented Sri Lankan spin bowler who appears to have been expunged from historical record. Despite its cricket focus, Karunatilaka promises in the book: "If you've never seen a cricket match; if you have and it has made you snore; if you can't understand why anyone would watch, let alone obsess over this dull game, then this is the book for you."

Judges of the £10,000 prize agreed. "This fabulously enjoyable read will keep you entertained and rooting for the protagonist until the very end, while delivering startling truths about cricket and about Sri Lanka," said chair Margaret Busby.

"It's an insightful story about fact and gullibility, about world history, about friends and family [and it] sets the standard high for the new Commonwealth book prize."

The award, won in the past by Peter Carey, Christos Tsiolkas and Aminatta Forna, has been relaunched this year by the Commonwealth Foundation's Commonwealth writers' programme to target and identify new talent, and goes to a first novel. Karunatilaka beat names including Ondaatje winner Rahul Bhattacharya to take the prize, which was presented at the Hay festival on Friday afternoon by the award-winning Nigerian author Chimamanda Ngozi Adichie.

Speaking to the Guardian, Karunatilaka said it was a "huge surprise" to win – although the fact that the Sri Lankan cricket team lost to Pakistan on Thursday had made him quietly positive, he joked. "Whenever the Sri Lankan cricket team loses, something good happens to the book, so as they got thrashed last night I was pretty confident," he said.

"Winning the prize means so much … If you are a Sri Lankan writing in English you can't expect to be published outside Sri Lanka. When I finished it, I thought it would be appealing to Sri Lankans, and perhaps readers in India and Pakistan and the subcontinent would get into it, but I really didn't think it would go further than that … I was surprised to make it to the final five, considering how strong the Asia shortlist was. To win it is quite crazy. Now I just need to find a pub in Wales that serves arrack."

Chinaman – the title is a reference to a particular bowling delivery in cricket – has already received glowing reviews in the UK. Nicholas Lezard wrote in the Guardian: "I can hardly believe this is a first novel by someone self-described as a bass-player and advertising copywriter, the dumbest jobs in music and writing. He has with no apparent effort got into the mind of an articulate, wise, but despairing and cynical drunken old hack, and this long, languorous and winding novel has registers of tragedy, farce, laugh-out-loud humour and great grace".

Karunatilaka is now about to go on tour in the US.

The author said he spent two years doing "nothing but watch cricket" as research for the novel. "Research is what derails a book, but all I had to do was watch cricket and hang out with drunk old men, so that wasn't too strenuous. I wanted to be authentic to the voice, which was why I did a lot of talking with these characters, these old men obsessed with cricket who would spend all day drinking," he said.

Karunatilaka is now writing his second novel – not about cricket, but also set in Sri Lanka. "I'm steering clear of drinking and sport, but it will be in Sri Lanka," he said. "I do feel quite lucky because Sri Lanka is not very well trodden ground [for authors] and there are so many stories around."

The £5,000 Commonwealth short story prize was won by New Zealand author Emma Martin for Two Girls in a Boat, which chair of judges Bernardine Evaristo described as "gorgeous, elegant and spare". The story was chosen, she said for "its nuanced handling of time, place and relationships; its daring, provocative subject matter and clear-eyed exploration of the choice of heterosexual conformity in the face of sexual mutability. Until we had decided on our shortlist, all entries were anonymous. So it is also great that this prize, I think we can claim, has discovered Emma Martin, who has not yet published a book, and brought her to an international audience. With her considerable talent we hope to see more of her work in the future."

Source: www.guardian.co.uk
Posted on: 11-06-2012
---
Online Membership Application available on prepobu.lk
The OBU is pleased to announce that Old Boys of the school can apply for membership online by filling in the application form in the "Apply for Membership" section. See link
Posted on: 01-01-2012